We Have openings available for several time periods during the NM Spring season.
2022 New Mexico Spring Turkey Hunt Season runs from Friday, April 15th until Tuesday, May 10th.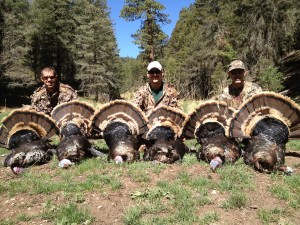 These hunts are being presented by serious turkey hunters for serious turkey hunters.
Hunters may choose from three, four or five day hunts within the following time periods:
Saturday, April 9th to Sunday April 10th (Youth Hunt Only)
Monday, April 18th to Friday, April 22nd
Monday, April 25th to Friday, April 29th
Monday, May 2nd to Friday, May 6th
Monday, May 9th to Tuesday, May 10th
You will have some of the most experienced and successful turkey hunters in the Southwest at your disposal on your hunt!
The hunt location is at a secluded cabin in the scenic Sacramento Mountains area of the Lincoln National Forest in the vicinity of Cloudcroft, NM. This is a private, non-commercial facility and includes lodging, food, and for an additional fee guiding assistance if desired  (Some hunters prefer to be unguided).
Hunters must provide hunting licenses and transportation.
See our Spring 2022 Turkey Hunt Fee Schedule for our hunt pricing.
For all hunt periods, except the first (Hunters may arrive earlier for the first hunt period), hunters may arrive the evening before their hunt period begins for hunt briefing and roosting of birds, if desired.
Contact Us now for more information.
Request a hunt by filling out the contact form below: